Denny Does Darlington....twice. Denny Hamlin looks to be a legitimate contender to Jimmie Johnson's title reign, as the Hampster doubled up at Darlington last weekend. Hamlin tamed the track too tough to tame on successive nights in his JGR Toyotas.
CHECKERED FLAG
Hamlin won the pole and the NNS race on Friday night, then covered the field the next night in the Cup event. Just a month after knee surgery, Hamlin has surged upward in the points standings, and seems to have his swag on for the Race to the Chase.
Jamie McMurray was 3rd on Friday, and 2nd on Saturday after starting P-1. J Mac led 71 laps and was never out of the top-10. Jeff Gordon once again led over 100 laps without winning, as he rode to a 4th place finish. After starting dead last, in a backup car, Kyle Busch went to 1st a little past halfway before settling for 7th. Jeff Burton was solid all night until a late race penalty left him to finish 8th.
Jimmie Johnson suffered his third DNF of the season. Over the last four seasons, all championships, JJ had seven DNFs total. Martin Truex Jr was involved in some questionable driving tactics all night long. He somehow managed to hang around the top-10 most of the race before finishing 19th, the first car one lap down.
Former series champion, Bobby Labonte did not look good out there Saturday night. He was involved in at least three caution flags. Everybody likes Labonte, but it hurts to watch a champion playing out the string like this.
BLACK FLAG
I love to learn about the history of NASCAR's legacy tracks....but, if I hear the words 'minnow pond' one more time I'll blow a head gasket. We've all heard the story of why Darlington has the weird egg shape....100 times! Did we really need to hear it again ten more times on Saturday?
.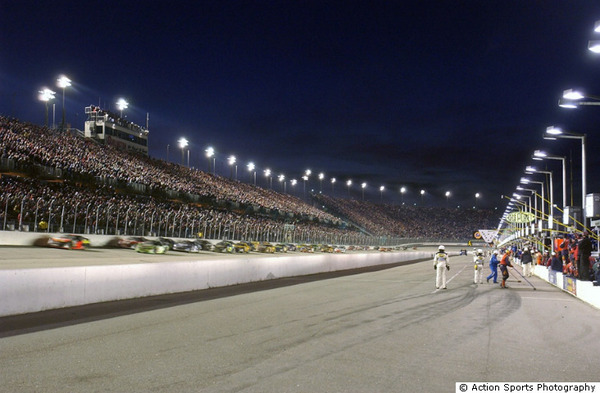 .