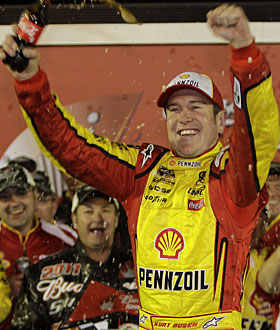 NASCAR made its annual trip to Northern California, as Kurt Busch won the Save Mart 350 at Infineon Raceway in dominating fashion. Usually when the winner leads close to seventy percent of a race, it can seem very boring. That was not the case Sunday, as this was an event that most fans, and drivers, will remember for some time.
CHECKERED FLAG
Kurt Busch led 76 of the 110 laps. The few times that he was not on point were due to cautions, or pit strategy. The Penske Dodges have been extremely fast over the last six weeks, and at the same time, have been getting the best fuel mileage in the series. Busch has climbed to 4th in points, just one point behind third place.
GREEN FLAGS
Three drivers, who all earned top-ten spots, stand out because they are not thought of as 'road racers'. Clint Bowyer looked very racy and wound up 4th. Joey Logano won the pole and came home 6th. Hardluck Martin Truex battled all day to his 8th place run. Spinout shoutout to David Gilliland (12) and Regan Smith (16) both guys led some laps and may become future forces on road courses.
YELLOW FLAGS
Earlier, during race week, Tony Stewart spoke of a lack of respect among drivers at the road courses. He was proven correct... several times on Sunday. It seems that a few drivers who consider themselves 'road race aces' would rather go through the competition, rather than around it. Juan Montoya, Robby Gordon, and Michael McDowell all deliberately wrecked cars that were in front, and, or, beside them. I have to believe that these drivers think, that on a road course, they won't have to see the car they just dumped for the remainder of the race.
RED FLAGS
Are raised due to Denny Hamlin and Dale Earnhardt Jr's mechanical issues at Sonoma. With ten races until the Chase, Hamlin fell out of the top-10 in points, but he is 11th, with a win.. so he would make the Chase. Dale Jr slid back to 7th in points, without a win. His Chase chances may hang in the balance this week at Daytona. Stewart dropped out of the points' top-10, and he also has no wins this year.
BLACK FLAG
According to, shoot first/ask questions later, Robby Gordon, Goodyear is/was playing favorites with their tires on Sunday. Gordon claims that Goodyear brought two different "runs" of the same tire compound, and that the best matched sets of tires were only made available to the top teams. I have not heard of this happening in past events, but it would not surprise me if it's true. In fact, it would surprise me even more if it were not true.