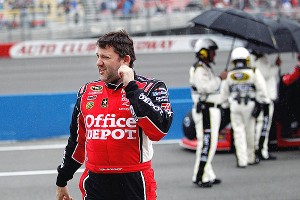 Tony Stewart won the rain shortened event in Fontana, California on Sunday. Even though only 129 of the scheduled 200 laps were completed, Stewart had the fastest car and looked destined to win rain or no rain.
CHECKERED FLAG
Dating back to last year's Chase, Stewart has now won 7 of the last 15 Cup races. That includes two of the first five this year for the notorious slow starting three time champion. His early successes this season can not bode well for Stewart's competition.
GREEN FLAGS
Kyle Busch led 80 of the 129 laps while starting and finishing 2nd. Dale Earnhardt Jr was 3rd. Kurt Busch scored his first top-10 for Phoenix Racing, coming home 9th.
YELLOW FLAG
The only caution Sunday came out when the skies opened up with some California liquid sunshine on lap 125. The cars were soon parked and the race was ruled officially over in about 15 minutes.
RED FLAG
Why did NASCAR sit through a two or three hour delay at Daytona this year, late at night, as the track was repaired, yet called the race at ACS on Sunday at 2:30 California time?
BLACK FLAG
Auto Club Speedway. You would think that five grooves of cars racing at over 200 mph would be a little bit exciting, wouldn't you? You would be wrong. Why are they still racing here? Los Angeles will not support an NFL team, and after razing two other tracks in SoCa, you would think NASCAR would get the hint. You would be wrong.