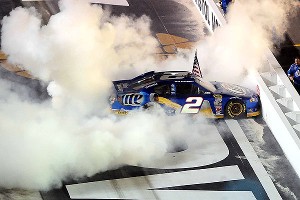 Brad Keselowski raced his Penske Dodge to his second win in a row at Bristol in the Food City 500 on Sunday. He led 232 of the final 283, and the last 111, laps. The #2 Brew Crew seem to have regained the magic they once had at Thunder Valley when Rusty Wallace helmed the Blue Deuce.
CHECKERED FLAG
Keselowski dodged the race's only major wreck on lap 29, and eventually went to the point shortly before halfway. Drivers seem to win in spurts at Bristol. Will Brad's streak continue come August?
GREEN FLAG
MWR had three cars, Martin Truex Jr (3rd), Clint Bowyer (4th), and Brian Vickers (5th) finish in the top five on Sunday. EGR's Jamie McMurray (7th) and Juan Pablo (8th) stayed out of trouble on the tight half mile track. RCR had all three cars finish in the top eleven.
YELLOW FLAG
Somehow Kasey Kahne and Reagan Smith were arguing over real estate on lap 29.... only 479 to go.... and wrecked each other along with pre-race favorites like Carl Edwards, Kyle Busch, and Kevin Harvick.
RED FLAG
The half filled grandstands at BMS! What a shocker... just a couple of years ago the high banked half miler was the toughest ticket in motorsports. Now, tix are going for less than face value in the parking lots outside the track. Of course, high gasoline prices kept some fans from making the trip, but the real reason is....
BLACK FLAG
The "progressive" banking the track installed in 2007 has killed the short track, must-see, action at BMS. The track went from a single groove, to about two and a half racing grooves. The track went from 20 cautions every race, to four or five. The track went from using the chrome horn, and rattling someone's cage to pass, to cars without a mark on them after 500 laps at Bristol. The track went from edge of your seat action, to napping on the sofa instead.