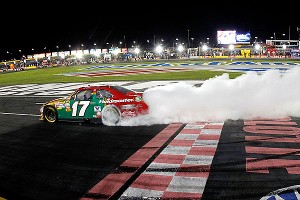 The 2011 Chase is now at the halfway point, and we have a much clearer view of the big picture. Big picture racing is what championship contenders do. Those teams are always prepared and go after max points when the victory is out of reach.
The Roush Fords have been the class of the one point five mile tracks in this year's Cup series, and Matt Kenseth was the best in show Saturday night at CMS.
CHECKERED FLAG
Kenseth was shuffled back due to pit strategy midway through the race, but eventually made his way back to second place with a couple dozen laps left. From there on it was just a matter of him filling up Kyle Busch's rear-view mirror, as he hounded Busch for several laps until pulling by, then, away from him.
GREEN FLAGS
Busch was second, for the second night in a row, and led the most laps. Kasey Kahne finished 4th, again. RPM drivers, Marcos Ambrose (5), and AJ Allmendinger (7), were the other non-Chasers in the top-10.
YELLOW FLAGS
Coma-inducing would be an apt description of the first two thirds of the, mostly single file, race, as only three yellows flew... all for alleged 'debris' during the first 238 laps. Five legit cautions were displayed over the final 94 laps... all for actual, on-track, events.
RED FLAG
One of those cautions was for, five-time defending champion, Jimmie Johnson's hard, head-on, crash. JJ is now 35 points behind the points' leader, Carl Edwards. And, after proclaiming him six-time champ just last week, I now declare him out of the Chase!
BLACK FLAG
A great racing talent was lost Sunday at Las Vegas Motor Speedway when two time Indy 500 winner Dan Wheldon died from injuries suffered in a multi-car pileup in the Indy Izod series race. Wheldon was a great driver, and a great guy. Sad regrets to his wife and two little boys.