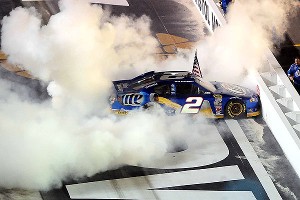 Remember when Bristol had 20 (legit) cautions per race, and no green flag pit stops? Well, since the track's reconfiguration in 2007, that has all gone the way of the COT's rear wing. The half mile track used to be a one groove joint with 35 degree banked turns. Now, with the progressive banking, the track claims that the turns are banked between 24 and 30 degrees. Independent parties have gauged it at 20 degrees.
CHECKERED FLAG
The Blue Deuce is on the loose! Brad Keselowski is having a month of racing that legends are made of. Four races, two wins, a second, and a third all in August. And, all on the fractured ankle. Drivers, teams, and fans are wondering if this guy will be a factor in the Chase. I have to say yes because he seems so underwhelmed by his success. I'll throw it out there, in, and out of the car, he reminds me of Davey Allison.
GREEN FLAGS
Martin Truex Jr held off Jeff Gordon for second place. Jamie McMurray stayed close and brought it home in fifth position. Marcos Ambrose earned his eighth top-10 this year with his 10th place run.
YELLOW FLAG
There was a time when they didn't have to throw "mystery debris" yellow flags at Bristol to tighten up the racing. Fifteen to twenty actual cautions were the norm just a few years ago. The graduated banking has opened up a second, and third, groove on the track, so the bump, pass, and run is not needed now. Add in the hands-off, points racing, approach with the Chase just two races away, and the, one-time, season's most anticipated race has become just another yawner.
RED FLAG
While a handful of drivers appear to be making an effort to go into the Chase at full speed, others are lagging badly. This week Kevin Harvick, Greg Biffle, and Dale Earnhardt Jr looked like anything but championship contenders. Better step yo game up, boys.
BLACK FLAG
Thanks, Irene! ABC broadcast this race nationwide. But, millions of homes along the eastern seaboard saw nothing but idiotic, local ABC reporters standing in the rain trying to panic the public with non-stop Hurricane Irene reports. Other local markets, such as Nashville, were treated to preseason NFL games on their ABC affiliates instead of racing from Bristol.