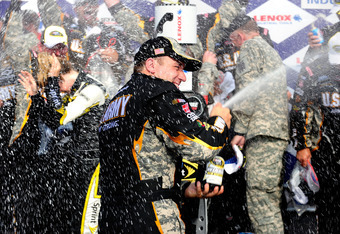 On Sunday, at New Hampshire Motor Speedway, Ryan Newman became this season's thirteenth different winner. Newman stretched his fuel mileage just enough to take his U.S. Army Chevy to the winner's circle.
CHECKERED FLAG
Newman started from the pole, led the most laps, and earned max points in NHMS's first of two races this year. He moved to eighth in the season points race with this win. With passing on the track difficult, Newman's crew had their driver up front when it mattered most.
GREEN FLAGS
Newman's boss/teammate, Tony Stewart started, and finished, second. Denny Hamlin (3rd) and Joey Logano (4th) gave JGR top efforts at NHMS. Seventh place finisher Bobby Labonte had his best run since the season opening Daytona 500.
YELLOW FLAG
The fuel mileage races. Really... every week? A couple of times a year is okay, but this is getting out of hand.
RED FLAG
Is Jimmie Johnson showing signs of stress? He seemed to be driving on the edge, and using up other cars on Sunday. He hit plenty of cars, then, after he spun out, he put Juan Montoya on blast. His crew cost him plenty of spots during the last pit stop. He threw them under the bus, too, even though he cut through the field to finish fifth.
BLACK FLAG
At the end of Saturday's Nationwide race at NHMS, Kevin Harvick claimed that NASCAR told him if he so much as touched Kyle Busch's car he would be "parked". This may have meant more if Harvick could have even came close enough to him to wreck Busch.
Is Harvick admitting that he isn't driver enough to beat Busch fair and square? Sure sounded like it. If NASCAR did tell Harvick not to touch Busch's car wouldn't that be exactly what Richard Childress "communicated" to Busch regarding Harvick's car?