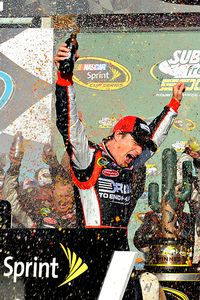 Cactus! Cactus! You talkin' 'bout cactus? We racin' for cactus? Sorry, A.I., but, after seeing the trophy that Jeff Gordon won at Phoenix International Raceway on Sunday, I couldn't resist. Yes, Jeff Gordon finally won again. After unloading his old crew chief on Dale Earnhardt Jr during the off season, it didn't take the four time champ long to score with his new chief, Alan Gustafson.
CHECKERED FLAGS
Gordon looked to be the class of the field after Carl Edwards was taken out in one of them racin' deals. In fact, Gordon was involved in Edwards' mishap, but it didn't affect his 'hunger' to win. Ouch. Gustafson has now won at PIR with three different Hendrick drivers, any guesses out there?
After winning the preliminary truck and Nationwide events on Friday and Saturday, Kyle Busch was in a prime spot to hit the trifecta again. Instead, he coughed up the lead to the hard charging Gordon with eight laps left, and settled for second place on Sunday. Ryan Newman (5) and Kasey Kahne (6) had good, quiet runs, and were up front most of the day. AJ Allmendinger (9) and Dale Jr (10) had even quieter runs, and were not up front most of the day.
The 43 best drivers in the world (sorry Vettel, and Button), for the second week in a row, found it hard to negotiate their way around a huge circuit without framming into each other.... early and often. Daytona 500 winner, Trevor Bayne returned to reality after wrecking in practice, then wadding his back up piece during the race.
The non-blame game appears to be over. After a wreck filled 500 at Daytona when no driver called out another driver, PIR caused the wronged to call out their abusers. Brian Vickers sure sounded like he was giving Matt Kenseth a warning. Meanwhile, Carl Edwards looked and sounded like he is one opportunity away from ditching his new kinder, gentler, gimmick.
BLACK FLAG
It's not just for seniors anymore, is Phoenix also the place where losing streaks go to die? Gordon halted his 66 race winless run on Sunday. Last fall Edwards broke his 70 race dry spell, and last spring, Ryan Newman put the brakes on a 77 race skid.